Alice Anderson
Alice Anderson @ Wellcome Collection
Make/Believe: UK Design for Performance at the V&A
Whilst visiting the V&A exhibition I was particularly inspired by Paul Brown's costume and set design for the operas Nabucco and Hippolyte et Aricie (both 2013) and how he successfully reworked Baroque opera within modern settings, re-telling the story of Cupid and Diana within the context of a domestic refrigerator. While there are often many pitfalls to avoid when adding a "modern twist" to work from centuries ago, the extravagances of French Baroque lend themselves well to the excess of the setting and in particular the costume, illustrated well by Brown's designs for the "Baroque Flies" (see drawing in above notebook.)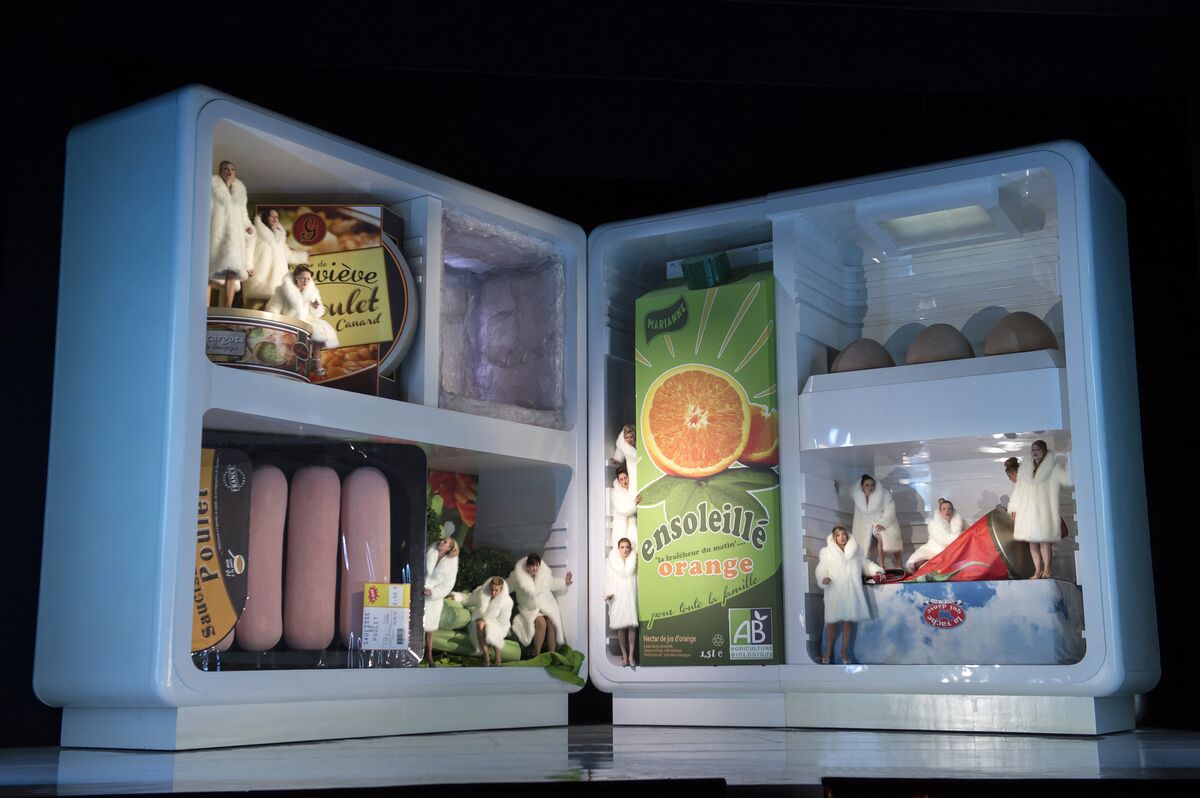 Set and Costume Design from Hippolyte et Aricie (2013) Directed by Jonathan Kent
Alongside the domestic surrealism of the opera set inside a fridge, I was also interested in Brown's setting of Nabucco within a modern shopping mall, as a means of launching a comment on modern society and consumerist culture. I thought it was great that Graham Vick's production was able to perpetuate the moral message within a modern context, using the destruction of the mall to illustrate the idea that only through Nature a resolution can be reached. 
Set from Nabucco, 2013 Opera directed by Graham Vick for New State Theatre Tokyo
As well as Paul Brown's relatively modern approach to set design, I also liked Robin Don's set design for The Rest is Silence (A Meditation on Hamlet.) A deconstruction of one of my favourite Shakespeare plays, the piece had been reworked into an immersive installation incorporating film and performance that enclosed the auditorium in four floor-to-ceiling two way mirrors, placing the audience literally in the centre of the action. Free to roam around and spy in on the action, the audience are left very much to their own devices in the centre of the glass rectangle - creating further uncertainty and also intensifying the drama happening all around them.
Two way mirrors used in The Rest is Silence, directed by Tristan Sharpe.
Continuing along the grim, monochromatic set of Sharpe's production, I was particularly struck by Simon Daw's set design for The Metamorphosis (2011.) I thought the clinical sparseness of an all-white stage was effective in showing the grotesqueness of the central character's physical distortions and transformation; leaving a black liquid (seeping from the main dancer's body) all over the set by the close of the performance. A similar sparseness was also utilised by Frank Conway in his design for Sam Shepard's production of A Particle of Dread, which took place in another all-white space inspired by "forensic laboratories, morgues and abattoirs." 
 The Metamorphosis, 2011 Adaptation of Franz Kafka's novel by Arthur Pita
Sources:
Make/Believe: UK Design for Performance 2011-2015, visited at the V&A on 2.10.15
http://www.bloomberg.com/news/articles/2013-07-01/glyndebourne-s-goddess-battles-cupid-lenny-henry-shines
http://www.theguardian.com/music/2013/jul/25/glyndebourne-2013-hippolyte-et-aricie-synopsis-and-cast-creatives
http://www.jakeorr.co.uk/writing/2012/06/review-the-rest-is-silence-dreamsthinkspeak/
http://www.britishtheatreguide.info/reviews/the-rest-is-sil-riverside-studi-7612
http://www.theguardian.com/stage/2011/sep/22/the-metamorphosis-dance-review
Details
Ernesto Neto @ Station to Station
Ernesto Neto
Marina Abramovic
Source: Zeitgeisters: Marina Abramovic
During PDP week I felt it only seemed fitting to research the "grandmother of performance art", Marina Abramovic. After going to see her residency at the Serpentine Gallery last year, I decided to refresh my mind by listening to her radio interview with Will Gompertz. Uploaded below are my notes from listening to the podcast:
Details